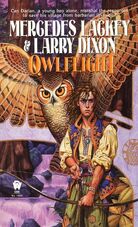 Though apprenticed to a legendary
wizard
, the young orphan
Darian
remains difficult and strong-willed. But a sudden twist of fate changes his life forever. The sacking of his village forces him to flee into the great forest, where the mysterious
Hawk People
lead him on the path to maturity.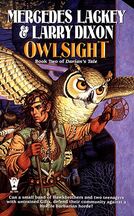 Darian has been living in the temporary encampment of the Tayledras "Hawk People" for nearly four years, working as liaison between them and the survivors of his own ravaged village. But as he is about to return with the Tayledras back to their home
Vale
to continue his magician's apprenticeship, Darian suddenly learns that his parents, missing for five years, are alive--trapped inside the borders of the treacherous
Eastern Empire
.
The third and final book in the Darian's Tale trilogy, a powerful saga charged with war and magic, life and love.
Two years after his parents' disappearance, Darian has sought refuge and training from the mysterious Hawk-brothers. Now he has opened his heart to a beautiful young healer. Finally Darian has found peace and acceptance in his life. That is, until he learns that his parents are still alive--and trapped behind enemy borders....
See Also
Edit