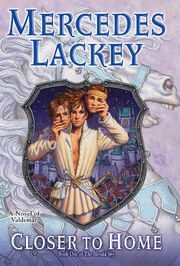 Mags was once an enslaved orphan living a harsh life in the mines, until the King's Own Herald discovered his talent and trained him as a spy. Now a Herald in his own right, at the newly established Heralds' Collegium, Mags has found a supportive family, including his Companion Dallen.
Although normally a Herald in his first year of Whites would be sent off on circuit, Mags is needed close to home for his abilities as a spy and his powerful Mindspeech Gift. There is a secret, treacherous plot within the royal court to destroy the Heralds. The situation becomes dire after the life of Mags' mentor, King's Own Nikolas, is imperiled. His daughter Amily is Chosen as the new King's Own, a complicated and dangerous job that is made more so by this perilous time. Can Mags and Amily save the court, the Heralds, and the Collegium itself?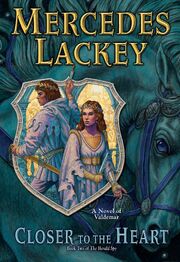 Mags was a Herald of Valdemar. But he had once lived the brutal life of a child slave. When he was Chosen by his Companion Dallen, his young life was saved, and he slowly adjusted to being well fed, educated, and treasured as a trainee in the Herald's Collegium at Haven. Singled out by the King's Own Herald, Mags would thrive in his secret training as a spy. His unusually strong Gift—an ability to Mindspeak and Mindhear anyone, not just others who were Gifted—made him a perfect undercover agent for the king.
This adventure continues Mags's journey as Valdemar's herald spy.
The third book of the series is expected to release in early October 2016.
Community content is available under
CC-BY-SA
unless otherwise noted.