The Mage Winds series consists of three books: Winds of Fate, Winds of Change, Winds of Fury
High magic was lost to Valdemar when Vanyel, the last Herald-Mage, gave his life to save his kingdom from destruction by the dark sorceries. Now it falls to Herald Elspeth, heir to the throne, to take up the challenge and seek a mentor who will awaken her mage abilities.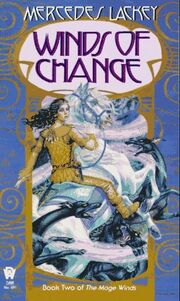 Winds of Change is the story telling of the training of the Heir of Valdemar, Elspeth, in real magic.
None but the Companions remember the long-ago age when high magic was lost to Valdemar as the last Herald-Mage gave his life to protect his kingdom from destruction by dark sorceries. But now the protective barrier set so long ago over Valdemar is crumbling, and with the realm imperiled by the dark magic of Ancar of Hardorn, Princess Elspeth, Herald and heir to the throne, has gone on a desperate quest in search of a mentor who can teach her to wield her fledgling mage-powers and help her to defend her threatened kingdom.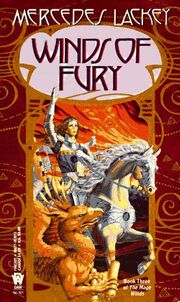 The magnificent conclusion to the timeless Mage Winds trilogy. Lackey wraps up the tale of the valiant Heralds of Valdemar and their mysterious horselike companions, of Princess Elspeth and of the magical Tayledras adept Darkwind as they come to terms with their birth-dictated responsibilities.
See also
Edit