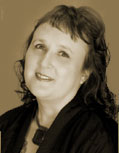 Mercedes Lackey (born June 24, 1950) (also known as Misty Lackey) is a prolific American author of fantasy novels. Many of her novels and trilogies are interlinked and set in the world of Velgarth, mostly in and around the country of Valdemar. Her Valdemar novels form a complex tapestry of interaction between human and non-human protagonists with many different cultures and social mores.
The other main world in which she writes is one much like our own, but also populated by elves, mages, vampires, and other mythical beings. Some of the interlocking series in this world are the Diana Tregarde thrillers, the SERRAted Edge books about racecar-driving elves, and the Bedlam's Bard books, describing a young man with the power to work incredible magics through music. While the SERRAted Edge and Bedlam's Bard series are still in progress, she has declined to write further Diana Tregarde stories because of low sales. Lackey received harassment from a small but determined number of fans over the decision. She claims that the trouble escalated to the point where she and her husband received death threats and were temporarily forced to suspend their fandom activities. She resumed attending conventions by 2004.
Her earlier Velgarth novels are all solo projects, but later volumes in the Valdemar saga are illustrated by her husband Larry Dixon, and in many of her latest works he is also credited as co-author. Many of her other novels are collaborations. She has worked with fantasy authors Andre Norton, Marion Zimmer Bradley, and Piers Anthony, and most recently has written The Obsidian Trilogy with historian James Mallory and a historical fantasy series based on Elizabeth I with romance writer Roberta Gellis. Ship Who Searched Anne McCaffrey[1] [2][3]
Biography
Edit
Lackey's birth in 1950 prevented her father from being called to fight in the Korean War.
She places her meeting with science fiction at age 10 or 11, when she happened to pick up her father's copy of James H. Schmitz's Agent of Vega. She then read Andre Norton's Beast Master and Lord of Thunder, and continued to read all of Norton's works - Lackey noted with chagrined amusement the difficulties of obtaining enough interesting books from the public library to sate her passion for reading. She wrote for herself but without real direction or purpose until she attended Purdue University. Lackey graduated from Purdue in 1972.
While at Purdue, she took a one-on-one class of English Literature Independent Studies with a professor who was a fellow sci-fi fan. He helped her analyze books she enjoyed and then use that knowledge. Lackey then encountered fan fiction, which further encouraged her writing. She began publishing work in fanzines, and then discovered filk and had some filk lyrics published by Off Centaur Publications. She submitted a story to Sword and Sorceress, then sold the rewritten story to Fantasy Book Magazine. Her first sale was to Friends of Darkover.
She met C. J. Cherryh[4] through filk, who mentored her during the writing of her 'Arrows' series. During this time, Marion Zimmer Bradley included her short stories in an anthology and Cherryh helped Lackey through 17 rewrites of 'Arrows'. During this time, she claims to have been writing so much that she had no social life at all. She divorced Tony Lackey, and eventually remarried to Larry Dixon.
Mercedes Lackey lives with her husband outside of Tulsa, Oklahoma, in an unusual house. She describes it as a "2½-story concrete dome with an octagonal wooden shell over it to make it look more like a normal house ... it's round with curved outer walls, which makes placement of furniture kind of awkward." (The Valdemar Companion, p.68)
She and Larry Dixon have in the past worked in raptor rehabilitation. She often refers to her various parrots as her "feathered children". The afterwords to some of her books refer to rehabilitation and falconry, and it is clear that this interest has influenced and informed her writing. She also enjoys beadwork, costuming, and needlework. She claims, however, to be a "wretched housekeeper, and by and large an indifferent cook" (The Valdemar Companion, p 64) Besides this, she does radar-reading during tornado season. She also helps support the Alex Foundation.
Lackey has been active in the filking community. She was a major contributor to an early album of space filk, Minus Ten and Counting. She has won 5 Pegasus Awards, mostly for her songwriting.
Her favorite book that she has written is By the Sword, and her easiest to write was anything about Tarma and Kethry.
Lackey's dream cast list for her best-known books is as follows:
Published works
Edit
A prolific writer, Lackey has published numerous works, both standalones and works in series. In addition to her Valdemar-related work, she has also created several other world settings to play in, both alone and jointly with other authors. A complete list, divided by world setting, is available at Wikipedia.
In addition to writing the Valdemar novels, Lackey also edits the short story anthologies, and has written numerous individual Valdemar stories. The Tarma and Kethry stories were mostly compiled in Oathblood. Most other stories have appeared in various Valdemar anthologies, but a few were published elsewhere, and have not been collected into any single Valdemar volume.
Valdemar Short Stories
Edit
Standalone stories
Edit
"Vixen" in No True Way, Anthologies, volume 8
"Vexed Vixen" in Crucible, Anthologies, volume 9
"A Midnight Clear" in Seasons, Anthologies, volume 13
2. "Ripples and Cracks" in Tempest, Anthologies, volume 10 (Co-authored with Larry Dixon)
Interviews, panels, etc.
Edit
References
Edit
External links
Edit
Community content is available under
CC-BY-SA
unless otherwise noted.